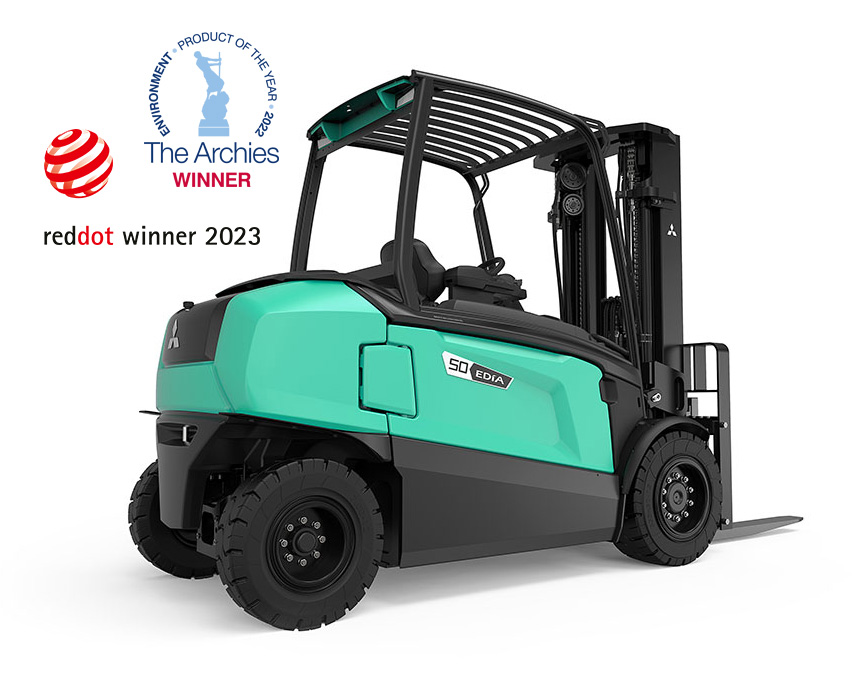 FB40-55(C)N(H) Series
Quiet and steady For complete comfort and control
Electric Counterbalance
4.0-5.5 Tonnes
4 wheels
80 Volts
AC-Power
The EDiA XL benefits from revolutionary features designed to give operators greater control than ever before. Electric differential lock provides optimum traction, and Four Wheel Steering ensures better grip and precision handling. EDiA XL is also equipped with AutoBoost for extra speed and power when you need it most.
It is well known that if an operator is comfortable they will be more productive. EDiA XL features a rubber-sealed cabin that minimises microvibrations, and the Low Noise Lift is the quietest on the market at only 65 dB. EDiA XL also includes AC and heater options, so temperatures can be adjusted to suit the operator. These features combine to create a stress-free environment where the operator can focus on the task at hand.
For optimal handling, EDiA XL has dual joysticks that offer simultaneous lift and tilt functions, as well as Adaptive Lift Control (ALC) for added stability and little chassis movement when lowering loads.
| Model | Capacity |
| --- | --- |
| FB40N | 4000 kg |
| FB45N | 4500 kg |
| FB50CN | 4990 kg |
| FB50N | 4990 kg |
| FB50NH | 5000 kg |
| FB55NH | 5500 kg |
Mini steering wheel
The mini steering wheel minimises the effort required to operate the truck as it supports a more relaxed driving position, ensuring the operator stays comfortable and in control throughout long shifts. (Option)
AutoBoost
The truck senses when power is needed, and will automatically activate acceleration and torque boosts.
Adaptive Lift Control (ALC)
Operators can ensure smooth lowering of loads with fewer truck movements for fast, precise operations, regardless of load weight.
Dual joysticks
Offering simultaneous lift and tilt functions, the ergonomic dual joysticks have good grip, especially when used with gloves.
Red Dot design award winner
Red Dot is an internationally recognised symbol of outstanding design, marking the best in aesthetics, functionality, and innovation. The truck's next-generation design, combined with a host of outstanding features, and class-leading ergonomics greatly impressed the expert jury.
Comfortable cabin
The overall noise inside the cabin is just 65 dB - that's similar to normal conversation level - providing a quiet and stress-free environment where the operator can focus on the task at hand.
Electric differential lock
When activated, the electric differential lock will give the truck the best possible traction by spinning both front wheels, and can be preset to engage when speed is low or steering angle is limited.
Intelligent Cornering System
The truck will slow down earlier in the turn for much smoother, safer cornering.
Sensitive Drive System+ (SDS+)
This driver-assist system responds intuitively to the individual operator's input - altering the performance characteristics for greater productivity and safety.
Four Wheel Steering (4WS)
This gives better grip and manoeuvrability, particularly in tight spaces, as the truck can turn quickly and easily on the spot.
Passive Sway Control
Mast sway movements are dampened by the chassis, enabling operators to lift confidently to high heights.
UKMHA Environmental Product of the Year 2022
The jury of industry experts felt the cutting-edge Mitsubishi Forklift Trucks technologies such as AutoBoost and Low Noise Lift made it a clean, energy-efficient, electric alternative to 4–5.5-tonne IC engine trucks in more environments than before.