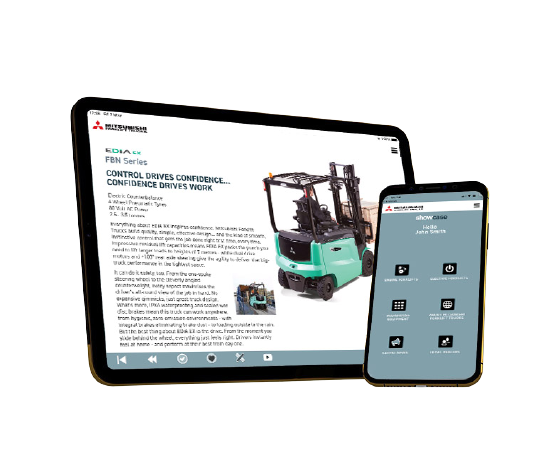 MITSUBISHI FORKLIFT TRUCK SHOWCASE APP
THE SHOWCASES APP — FOR THE LATEST FORKLIFT INFORMATION
Stay up to date on our complete range of forklifts and warehouse equipment with our Showcase app for Apple iOS and Android smartphones and tablets.
Fast and easy: Mitsubishi Forklift Trucks Showcase provides all the information you need to find your perfect forklift. Whether you are looking for a versatile electric forklift truck, a clean IC engine powered forklift truck or any vehicle from our wide range of warehouse equipment.
But best of all, with Showcase you can be sure you'll always get the latest news and information about product developments.
TOP NOTCH FEATURES
Optimised for tablets and smartphones

Contains all model series and models

Features list for all models

VDI data sheets for each model

User notifications of the latest developments

Regular updates - without the hassle of re-installation

Regional news/reports

Product videos